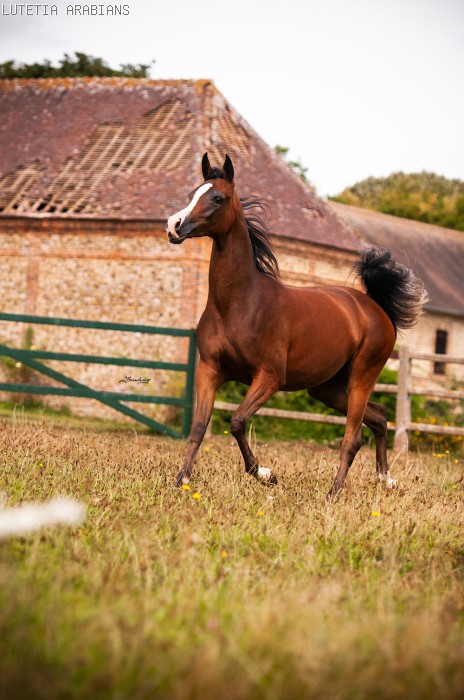 Bamera
FOR SALE
(EMERALD J x BELLANDA)
Filly, Bay, 2017
Owner: Lutetia Arabians

EMERALD J
QR MARC
MARWAN AL SHAQAB
SWETE DREAMS
EMANDORIA
GAZAL AL SHAQAB
EMANDA
BELLANDA
Pilot
FAWOR
PIPI
BELLADONA
EUROPEJCZYK
BELLONA
BAMERA represents one of the most important dam families at Lutetia tracing down to the immortal Queen of Janów Podlaski - BANDOLA (Witraz x Balalajka) through her daughter BEATRICE (by Pietuszok) and the black BELLONA (Czako x Beliza/Etap x Beatrice), a pillar stone of this valuable damline at Lutetia together with her daughter BELLADONA (by Europejczyk), her granddaughter BELLANDA (Pilot x Belladona) and great-grand-daughter Belazalia (Gazal al Shaqab x Bellanda), Bronze Medal at the French Nationals in Pompadour 2016.

Bellanda was a treasured mare at Janów Podlaski and her daughter BELLISA (by Poganin) was retained as a broodmare when Bellanda was sold and she has showed her value as the dam of the great BAMBINA (by Kahil Al Shaqab) Bialka Spring Show Champion Yearling Filly and Al Khalediah European Horse Festival Yearling Gold Champion Filly. Bellanda is the maternal sister to the beautiful GAZAL AL SHAQAB-daughter BELGICA, herself a succesful show mare and the dam of the succesful BERENIKA (by Eden C), BERNADETTA (by Ganges) and BALLENA (by Kahil Al Shaqab).

Bandola was born in 1948 at Albigowa stud and she was one of 9 full siblings by WITRAZ (Ofir x Makata) and out of BALALAJKA (Amurath Sahib x Iwonka III) with ARFA and BASK also creating dynasties of their own just like Bandola. Bandola produced 6 foals at Albigowa before she was transferred to the renovated Janow Podlaski in 1962 - one filly and five colts and among them Bajram (by Pietuszok) who was exported to Lasma Arabians in USA in 1963 and Barysz (by Faher) exported to P.B. Williamson in Canada in 1964. At Janów Podlaski Bandola would have additional eight foals - four fillies and four colts including the daughters BANDA and BEATRICE (both by Pietuszok), BANDAMA (by Celebes) and BALLADA (by Partner) and her two legendary sons BANDOS (by Negatiw) and BANAT (by El Azrak). It would be Beatrice and Ballada who would carry on the dam line of their legendary dam at Janów Podlaski as her other daughters were exported and created their own legacies in their new countries.

Bamera´s sire is the AHW Horse of the Year and multi-champion EMERALD J, sired by World Champion QR MARC (Marwan Al Shaqab x Swete Dreams) and out of the legendary EMANDORIA (Gazal Al Shaqab x Emanda), one of the most winningest mares in Polish history and a broodmare supreme as the dam of several great sons and daughters in USA, Poland and the Middle East, including her sons EPIC MP, ETRO PA and ROYAL EMANUEL and the daughters H EMANDILA H, AJ EMANA and Michalow´s own superstar EMANOLLA. Emerald J has a great charisma and presence, something that he inherited to Bamera who is a great moving filly with the future set on both the showring and as a valuable broodmare with her great heritage on both her sire's and dam's sides.