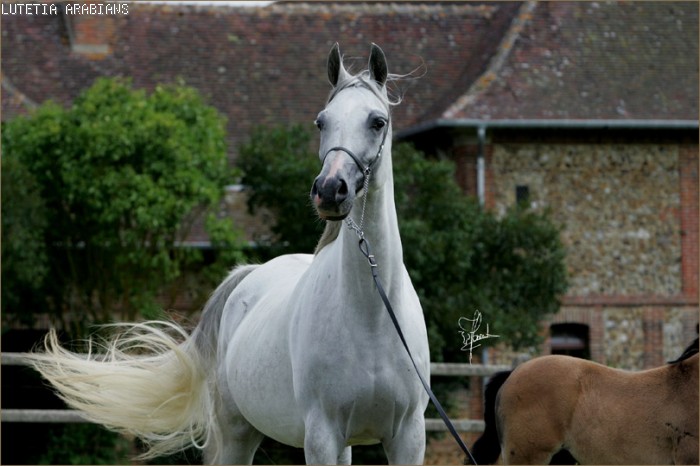 Złota Orchidea
SOLD
(EMIGRANT x ZŁOTA ORDA)
Mare, Grey, 2004
Sire line: Saklawi I 1886
Dam line: Selma d.b. 1865

EMIGRANT
ARARAT
PALAS
ARRA
EMIGRANTKA
EUKALIPTUS
EMIGRACJA
ZŁOTA ORDA
PESAL
PARTNER
PERFORACJA
ZAGROBLA
MONOGRAMM
ZGUBA
The daughters of EMIGRANT are revered by breeders all over the world for their classical beauty and for their great progeny. Emigrant and his sire Ararat (Palas x Arra) were both Polish National Champion Stallions and highly valued in Polish breeding. Ararat is the only stallion that won his class in Aachen with his son Emigrant winning his class and the grandson Emrod (Emigrant x Empressa), winning his class at the same show, making three generations capturing the three stallion classes! Emigrant´s dam is the legendary EMIGRANTKA, one of the treasured full sisters by Eukaliptus out of Emigracja that laid the ground for the successful dynasty at Michalow that includes EMANDA, EMANDORIA, EMIRA, EMILDA, EMMONA and EL SAGHIRA.

Zlota Orchidea is out of ZLOTA ORDA, a daughter of Polish National Champion Stallion PESAL (Partner x Perforacja) and out of one of the most famous daughters of MONOGRAMM - the ethereal ZAGROBLA. Zagrobla herself had a very successful show career winning twice Polish National Junior Reserve Champion, All Nations Cup Junior Reserve Champion, Babolna International Junior and Senior Champion, World Senior Champion, All Nations Cup Senior Champion, twice European Senior Reserve Champion, Scottsdale Arabian Show Reserve Champion and US National Champion Mare. And in 2017 at the age of 23 she still impressed and was class winner and Polish National Silver Champion Mare.

Zagrobla is the dam of ZAHARA EL MARWAN (by Marwan Al Shaqab) Canadian National Champion Mare and US National Reserve Champion Mares 8 years and over, ZIGI-ZAN (by Padrons Psyche) Swedish National Champion Stallion, Liberty Champion and Scandinavian Open Champion Stallion and ZIGI ZANA (by QR Marc) Polish National Junior Gold Champion, twice European Junior Silver Champion, Austrian International Junior Silver Champion and Polish National Senior Silver Champion Mare and premier broodmare at Michalow.

Zagrobla´s dam ZGUBA was one of the few daughters of the chestnut PROBAT-son ENRILO, who unfortunately was sold to USA prior to his first foal crop was born at Michalow. Zguba´s dam was ZAZULA - of many considered to be one of the most ethereal and beautiful mares at Michalow. Zazula was European Senior Reserve Champion Mare and All Nations Cup Champion Mare and beside Zguba she produced two offspring by PALAS, ZOLNA and ZULUS exported to USA and France respectively and two great-daughters by PROBAT - the bay ZULA and the chestnut ZUELA. Zguba´s full sister ZAGORA was sold to Austria where she was shown to the Champion mare title at the shows in Neustadt and in St. Pölten.

Zlota Orchidea belongs to the family of SELMA DB, highly valued in the breeding at Crabbet where her daughter Sobha found her way and created a dynasty that later would spread not only to Poland but also to Russia with descendants like PALAS, PIETUSZOK and TAKTIKA.

Offspring