Athena SA
SOLD
(NUZYR HCF x DELL TOUCH)
Mare, Grey, 2002
Owner: Lutetia Arabians
Sire line: Kuhailan Haifi or.ar.
Dam line: Rodania d.b. ~1869
ATHENA SA was born in Brazil sired by the twice Brazilian Reserve National Champion Stallion NAZYR HCF (AF Don Giovanni x NV Ali Bey). Nazyr HCF´s dam NV ALI BEY was an extremely good producer as the dam of several Champions including DENALI BHF Canadian Reserve National Champion Futurity Colt and sire of US National Champion Mare DULCINEA BHF; MYSTIC ROSE BHF Canadian National Champion Futurity Filly and dam of MYSTIC LOVE WRR; ALIJAH BHF Canadian National Reserve Champiin Gelding and FABLE BHR US and Canadian National Top Ten Stallion.
Nazyr HCF is the sire of SIBERIA SA (out of Eternia SA) who is the dam of the fullsisters AJ SAWAHI and AJ SAWARI, both by MARWAN AL SHAQAB and bred and owned by Ajman Stud. AJ Sawahi has been named UAE Gold Junior Champion Filly, Abu Dhabi International Junior Gold Champion, Qatar International Junior Champion, All Nations Cup Junior Champion, Dubai International Junior Champion and twice World Junior Champion. AJ Sawari has been Menton Gold Yearling Champion, All Nations Cup Yearling Champion, World Silver Junior Champion, Dubai Gold Junior Champion. NV Ali Bey is a daughter of the legendary ALI JAMAAL (Ruminaja Ali x Heritage Memory) and out of MYSTICAL BEY (Bey Shah x Magic Genii).
Nazyr HCF is a son of AF DON GIOVANNI, sired by Brazilian-bred ALLAD who is by US National Champion Stallion ALADDINN (Nureddin x Lalage) and out of VENETIA (El Paso x Warta), a fullsister in blood to US National Champion Mare WIZJA.
Athena SA is out of DELL TOUCH, a daughter of DELMAR who is sired by the Russian stallion MARSIANIN (Aswan x Magnolia) and out of the predominantly Polish LOVE MELODY (Aladdinn x Bask Melody). Dell Touch is out of AF ENTOCADA by BELFAST (Eukaliptus x Busznia) and out of AF SANTA FE by BASCO (Bask x Nafta) out of AF ILLUSO (Fadurah x Dorseema) belonging to the valuable dam family of RODANIA d.b., one of the most treasured families at Crabbet Park and higly valuable at Michalow Stud with mares like PALMIRA (Monogramm x Palestra) and PUSTYNIA KAHILA (Kahil Al Shaqab x Pustynna Malwa). Athena SA is herself a Champion mare and a classical fleabitten beauty. Her 2017 daughter AMONA (by Pogrom) shows Athena´s value as a broodmare and her capacity to pass on her beauty and charisma.
Offspring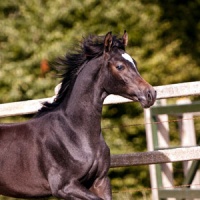 ---
(TF Afrikhan Shah x Athena SA)
SOLD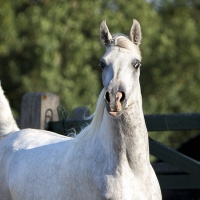 ---
(Om El Shahmaan x Athena SA)
SOLD