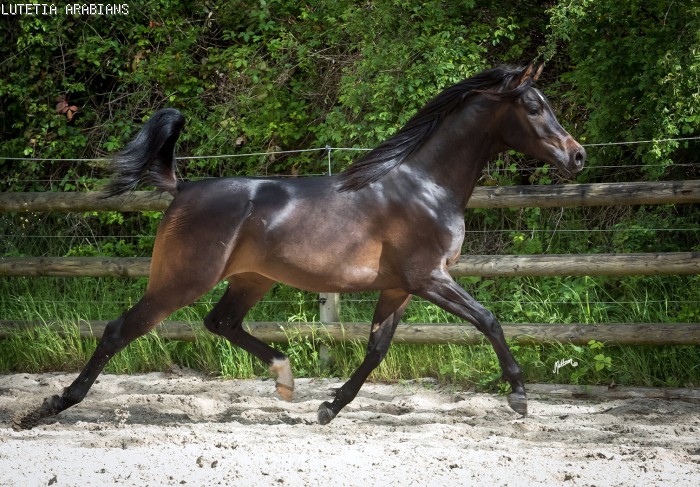 Witelio
SOLD
(EQUATOR x WROZKA)
Colt, Bay, 2015
Owner: Lutetia Arabians
Sire line: Saklawi I 1886
Dam line: Szweykowska ~1800

EQUATOR
QR MARC
MARWAN AL SHAQAB
SWETE DREAMS
EKLIPTYKA
EKSTERN
EKSPOZYCJA
WROZKA
GANGES
MONOGRAMM
GARONNA
WIPERA
FAWOR
WENDETA
WITELIO is an ahtletic, great moving son of two moving machines - the international acclaimed Equator and our beloved black WROZKA. Witelio is a promising colt with a stellar pedigree and great conformation and he is offered for sale to someone who seeks a young colt with great performance/show abilities and maybe as a future breeding prospect.

Witelio is sired by one of the most successful Polish sires of the last decades, EQUATOR, bred and owned by Michalow State Stud.

Equator has been on lease to Aljassimya Farm in USA where he dominated the US show circuit winning International Arabian Breeders Classic Senior Gold Champion Stallion, Arabian Breeders World Cup Senior Gold Champion Stallion and US National Reserve Champion Stallion. Equator can add those titles to All Nations Cup Senior Silver Champion Stallion, twice European Senior Gold Champion Stallion, World Senior Silver Champion Stallion, Al Khalediah European Horse Festival Senior Gold Champion Stallion, All Nations Cup Senior Bronze Champion Stallion, World Senior Bronze Champion Stallion, Spring Show Junior Gold Champion Stallion, Polish National Junior and Senior Gold Champion Stallion making him one of the most decorated Polish stallions in history.

Equator is sired by another great show horse - the incomparable QR MARC and thus Equator belong to the valuable line of GAZAL AL SHAQAB and his son MARWAN AL SHAQAB.

Equator´s dam EKLIPTYKA is a full-sister to the Polish Chief-sire multi-champion ESPARTO, who unfortunately passed away at young age but with several valuable daughters left in Polish breeding including All Nations Cup Gold Champion Perfinka. Ekliptyka is sired by the legendary EKSTERN, unbeaten in the showring and a phenomenon as a sire with numerous valuable daughters. Ekliptyka´s dam EKSPOZYCJA is a full sister to Polish National Junior Reserve Champion ESPERANTO and they belong to the precious Milordka dam line tracing down to Estokada through her daughter ESTEBNA, the first European Champion Mare. A pedigree filled with beauty but also great performance ability and wonderful disposition and powerful movements makes Equator one of the most exciting sires today. He is consistently passing on his great movement and elegance which can be seen in the reigning Polish National Gold Junior Champion Stallion DONG.

Witelio´s dam Wrozka is one of our most precious mares, with her Arabian type and extraordinary movement this black pearl catches everyones eyes and is a favorite among visitors. She is sired by Polish National Champion and US National Reserve Champion Stallion GANGES making Witelio carrying two lines to the incomparable MONOGRAMM through the two sons chosen to be his progenitors in Poland - Ekstern and Ganges. Ganges himself was the best race horse among the Monogramm offspring and he is producing not only show champions but also race winners and winners in both endurance and performance, making him the perfect versatile sire.

Wrozka´s dam is the black WIPERA, a daughter of Polish National Junior and Senior Champion as well as World Champion FAWOR, a valuable sire belonging to the KUHAILAN AFAS DB line through the legendary COMET. Wipera´s dam WENDETA was one of four valuable full sisters by PALAS and out of Swedish National Champion Mare WENEDA. Wendeta lived out her life at Michalow producing a valuable family while her sisters were sold and created new valuable dynasties for their new owners in Europe and USA. The family of SZWEYKOWSKA is one of the most successful at Michalow and highly regarded with horses like WIEZA MOCY, WIZJA, WILDA, WILEJKA and WOJSLAW.