TF Andalujia
SOLD
(BOTSWANA x TF KESTRELIA)
Mare, Grey, 2010
Owner: Lutetia Arabians
Sire line: Saklawi I 1886
Dam line: Rodania or.ar.
TF ANDALUJIA was bred by the famous Talaria Farms in USA and was prior to her move to Lutetia Arabians as a yearling US Egyptian Event Silver Champion Filly, Reserve Champion EBC Filly and First Place Egyptian Sired Yearling Fillies.
TF Andalujia is by the Straight Egyptian stallion BOTSWANA (Thee Desperado x The Minuet), the US Egyptian Event number one leading sire in 2007-2012. Botswana himself was US Egyptian Event Futurity Champion Colt and US Egyptian Event Champion Senior Stallion and Supreme Champion Stallion. He is sired by THEE DESPERADO (The Minstril x AK Amiri Asmarr) and out of THE MINUET (The Minstril x Aliah Halima). His fullbrother THEE CYCLONE was exported to South Africa where he was named South Africa National Supreme Champion Stallion as well as Champion under saddle before his untimely death in 2004. Thee Cyclone left a huge legacy in South Africa and he is the sire of SHAHEER PRINCE CYCLONE (out of Sidi Bint Malika), WAHO trophy recipient for his achievments under saddle.
TF Andalujia´s dam TF KESTRELIA is by the great producing FALCON BHF (Bey Shah x Bey Serenade SF), known for his extremely well producing daughters. Bey Serenade SF is a daughter of BEY SHAH (Bey El Bey x Star of Ofir) and out of BRANDIE ALEXANDRA whose sire is the Russian stallion SR NADOM (Muscat x Nazra) and she is out of BRANDIE, sired by the Polish stallion KIRKOR (Gwarny x Carmen) and out of PRINCESS ANN (Baske-Tu x Bint Mazana). TF Kestrelia is out of the Straight Egyptian mare TH MAYA NAUFALI (Thee Desperado x Tareefs Naufali)
TF Andalujia has a pedigree filled with beauty and she enchants visitors with her exquisite Arabian type and her sweet disposition. Her first filly AMSALA (by Mountassar Al Zobair) inherited her mothers feminine type and shows great promise for the future.
Offspring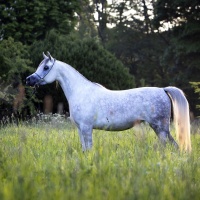 ---
(MOUNTASSAR AL ZOBAIR x TF ANDALUJIA)
SOLD