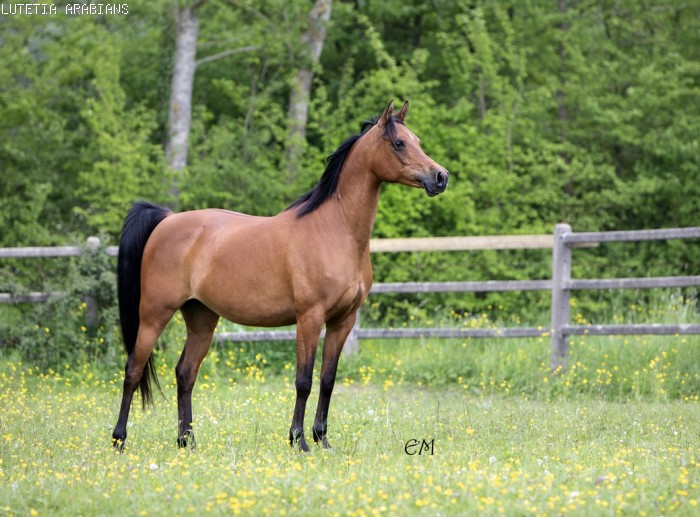 Marwissa
SOLD
(MARWAN AL SHAQAB x EAMT El MELISSA)
Mare, Bay, 2011
Owner: Lutetia Arabians
Sire line: Saklawi I 1886
Dam line: SG Shalimar

MARWAN AL SHAQAB
GAZAL AL SHAQAB
ANAZA EL FARID
KAJORA
LITTLE LIZA FAME
FAME VF
KATAHZA
EAMT El MELISSA
EL PERFECTO
VALLEHERMOSO
EXAMPLE
MEL MIOSOTA
JALISCO
FAYSCA
MARWISSA is a daughter of World Champion MARWAN AL SHAQAB (Gazal Al Shaqab x Little Liza Fame), the leading sire of show horses for the last decade. Marwan Al Shaqab is sired by World Champion GAZAL AL SHAQAB, a giant of the breed as the sire of not only Marwan but also the great daughters PIANISSIMA (out of Pianosa) and EMANDORIA (out of Emanda), considered by many as two of the most beautiful Arabian mares in the world. Marwan Al Shaqab´s dam LITTLE LIZA FAME was herself Champion in both halter and Western Pleasure and sired the son GW MAGNETIC BEY (by Huckleberry Bey) before she was sold to Al Shaqab in Qatar. GW Magnetic Bey is the sire of the mare JAS Silver Eyes+++/ (out of JAS Stella), Legion of Supreme Honor and Legion of Supreme Merit for her achievments as a Sport Horse.

Marwissa is out of GAA MILLENIA (Magnum Psyche x Bey Cherie Amore), US and Canadian Reserve Champion Mare as well as multiple Region Champion Mare in USA. GAA Millenia produced three offspring before her exportation to Europe, the daughter LC POLISH DANCER (by Ecaho) exported to Haras La Catalina in Argentina, the son EPIC LL (by Magnum Chall HVP) successful Hunter Pleasure horse and the daughter MILLY VAN RYAD ORA (by Ryad El Jamaal) exported to Australia where she went on to be Gold Champion Senior Mare and High Point Horse at the 2013 Australian Breeders Cup as well as East Coast Reserve Champion Mare second to the international superstar KLASSICAL DREAM MI.

GAA Millenia is a daughter of US National Champion MAGNUM PSYCHE (Padrons Psyche x A Fancy Miracle) and out of a daughter of BEY SHAH (Bey El Bey x Star Of Ofir). Her dam BEY CHERIE AMORE is out of MY CHERIE AMORE who carries the bloodlines of valuable Polish bloodlines like the stallions HAL GAZAL (Eleuzis x Bufa) and HARBIT (Negatiw x Harfa) and four lines to legendary WITEZ II (Ofir x Federacja) as well as old American breeding with her damline tracing down to Abeyah d.b. 1896, imported to USA in 1906 by H. Davenport.