GAA Millenia
SOLD
(MAGNUM PSYCHE x BEY CHERIE AMORE)
Mare, Bay, 2000
Owner: Lutetia Arabians
Sire line: Saklawi I 1886
Dam line: Abeyah or.ar.
GAA MILLENIA is a true gem with a stellar pedigree and great achievements both in the showring as in the breeding barn. She has numerous Region Champion titles as well as being Reserve Champion at both US and Canadian Nationals. Before her exportation to Europe she delivered three foals in USA - the daughter LC POLISH DANCER (by Ecaho) exported to Lady Gina Pelham of Haras La Catalina in Argentina, the son EPIC LL (by Magnum Chall HVP) a succesful Hunter Pleasure horse and the daughter MILLY VAN RYAD ORA (by Ryad El Jamaal), sold to Mystica Arabians in Australia and later to Zarahemla Arabians who showed her to Gold Champion Senior Mare and High Point Horse at the 2013 Australian Breeders Cup as well as East Coast Reserve Champion Mare second to the international superstar KLASSICAL DREAM MI. Milly Van Ryad ORA is the dam of Zarahemla´s chief sire ZARAHEMLA MOSIAH (by Crave FF), a champion stallion for his breeders and owners.
GAA Millenia has been invaluable for Lutetia leaving only daughters securing her legacy in the breeding program. Her pedigree boast two of the most influential sires in the world - MAGNUM PSCYHE (Padrons Psyche x A Fancy Miracle) and BEY SHAH (Bey El Bey x Star of Ofir) as her sire and maternal grandsire respectively. GAA Millenia´s dam line traces down to Abeyah d.b. 1896, imported to USA in 1906 by H. Davenport creating a very succesful family in USA. Her damline also brings in valuable Polish bloodlines trough the stallions HAL GAZAL (Eleuzis x Bufa) and HARBIT (Negatiw x Harfa) as well as four lines to the legendary WITEZ II (Ofir x Federacja).
Offspring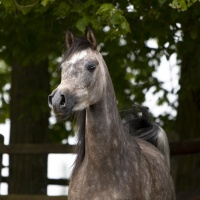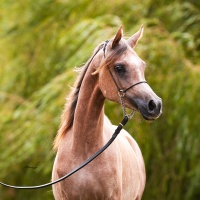 ---
(PROFENDER KA x GAA MILLENIA)
SOLD